« Shows & Personalities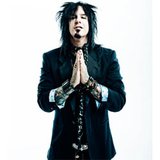 Sixx Sense
On Air:

Weekdays, 8pm - Midnight
About the Show

93 Rock is the new home for Nikki Sixx, and his nightly radio show... SIXX SENSE

The show is co-hosted by Kerri Kasem. They discuss music and lifestyle topics. Nikki also gives listeners a backstage look at the world and mind of a rock star. They welcome celebrity guests, recording artists and fascinating characters from all walks of life.

Nikki Sixx is the iconic founder, bass player and songwriter for legendary rock band Motley Crue. He is also the author of the New York Times Best Seller, The Heroin Diaries. Nikki is an international superstar. Motley Crue has sold more than 80 million albums worldwide, The Heroin Diaries stayed atop the New York Times Best Seller list for more than six months and his band Sixx:A.M. had the most-played rock track of 2008.

Kerri Kasem is the daughter of the world famous Casey Kasem. She is a multimedia personality, producer and writer, and has anchored music, talk and entertainment programs for radio and television.