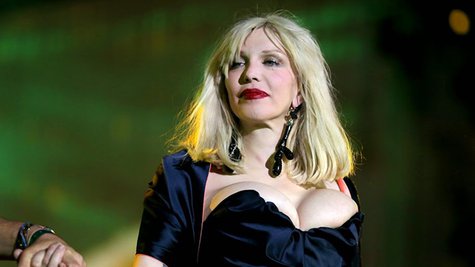 Courtney Love isn't sober, per se , but she's sober-er these days than she used to be. This from the singer herself, who tells the U.K. paper The Sunday Times that those long, ranting emails and Tweets she was once known for were the product of Adderrall. The drug, typically prescribed to treat attention deficit hyperactivity disorder , "makes me crazy," she says. "It makes me write long, unintelligible emails and get on Twitter and say something nasty and then I get sued. I've been off it for four years now but there were about seven lawsuits and I settled most of them, took one to trial and won, and now I've got one more to go."
Love tells the paper that she's never been "AA level" sober, saying, "I believe in moderation more...if I feel I'm going to have a panic attack, I'll try and chant, I'll try and do yoga, but if it comes down to it, I'm going to take a Xanax."
She says that her mother gave her Valium for the first time when she was seven, that she currently take an antidepressant and does drink on occasion, but "I think I'm going to stop tequila because last time I drank it I ended up sending emails, then having to apologize."
Courtney Love is closing in on 50 -- her birthday is on July 9 -- and age has apparently brought a bit of wisdom. Love says she has a new rule in place to guard against that same kind of ill-advised behavior: "From now my rule is if I'm going to press send, it needs to be before 9:30 at night and I need to be sober."
You can read the entire interview at TheSundayTimes.co.uk .
Courtney Love will next tour in August, on a string of dates through Australia.
Follow @ABCNewsRadio Copyright 2014 ABC News Radio