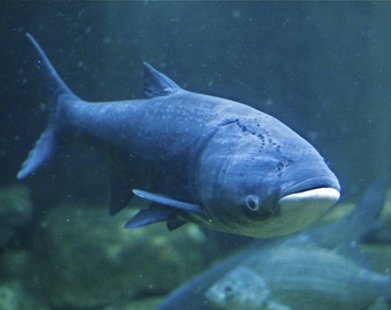 MILWAUKEE (WTAQ) - Only eight people spoke out at a public meeting in Milwaukee Monday night on the newest proposals to keep the invasive Asian carp out of the Great Lakes.
Most supported options that would close the water link between the carp-infested Mississippi River and Lake Michigan.
The Army Corps of Engineers gave Congress eight options last week, without recommending any of them. The Corps says a permanent solution would cost up to $18 billion -- and would take as long as 25 years to complete.
That's way too long, according to Nature Conservancy state director Mary Jean Huston. She said the economic risks to the Great Lakes are too high for such a long project.
Kenneth Fries of the Little Muskego Lakes Association said the Corps should upgrade its electronic fish barrier west of Chicago, and then work on longer-term solutions.
Wisconsin and most other Great Lakes' states favor closing the Chicago Sanitary and Ship Canal to keep the bloated carp out of Lake Michigan -- but Chicago business leaders say the area's commerce would suffer if the canal is cut off.
Monday night's public meeting was the second of seven planned on the Corps' recommendations. Tuesday, the Corps will discuss its report with state DNR officials in Madison.
(Story courtesy of Wheeler News Service)