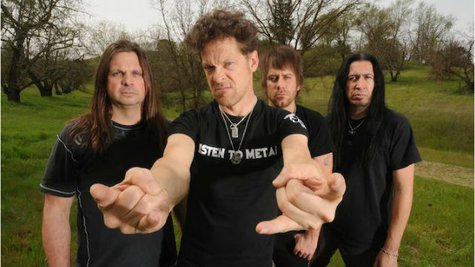 Newsted has released a lyric video for "Above All," a cut from their upcoming debut album, Heavy Metal Music . The five-minute clip features the song's lyrics flashing across the screen accompanied by footage of a man struggling to break free from being chained to the ground, which is covered in a massive amount of mud.
Heavy Metal Music will arrive in stores on August 6.
In other news, Newsted is taking a few days off from Megadeth 's traveling Gigantour festival after frontman Jason Newsted was diagnosed with walking pneumonia. In a post to the band's website, Newsted wrote, "I'd been feeling a bit under the weather while performing the most recent Gigantour shows so I went to the Dr. on my day off today & I was diagnosed with walking pneumonia!!! So under doctor's orders, I'm taking a week to rebuild...my apologies to our Canadian brothers & sisters in regions where we will not be appearing this week. I'm gonna work on keeping me alive so together we can keep the metal alive!!!!"
Newsted expects to be back on the road with the festival when it rolls into Abbotsford, Canada on July 29.
Copyright 2013 ABC News Radio