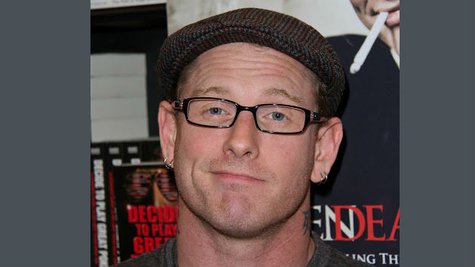 Corey Taylor has had quite a bit of experience dealing with ghosts, which he details in his new book A Funny Thing Happened on the Way to Heaven . The Slipknot / Stone Sour frontman says that he's not sure why spirits feel the need to make their presence known to him wherever he goes.
"Maybe there's something about my soul or my energy, the energy that I give off that just attracts these things to me," he tells ABC News Radio. "I'm not necessarily saying I'm the ghost whisperer or anything like that, but I've had my share of things happen to me and over the years. I've just kind of made peace with it. I don't feel like I'm a lightning rod or anything, I just think that certain spirits, when I'm around, they react a little strongly to it."
In addition to experiencing supernatural events at his home on a regular basis, he witnessed some harrowing paranormal activity while out on a ghost investigation at the Farrar Schoolhouse in Maxwell, Iowa.
"Rolling into [Farrar], I wasn't expecting much and we were kind of running around having fun," he explains. "Then probably right around midnight things just started to happen. I was taken aback. The file cabinet slammed shut [and then] walking into the other room and seeing the book that was open and then the pages torn out I was just like, 'That wasn't like that when we were in here.' It was gnarly."

A Funny Thing Happened on the Way to Heaven is out in stores now.
Copyright 2013 ABC News Radio