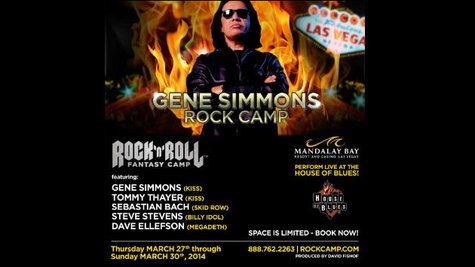 If you've ever dreamed of getting music lessons from KISS frontman Gene Simmons or Megadeth bassist David Ellefson , here's your chance. Both artists will be taking part in the upcoming Rock 'n' Roll Fantasy Camp event, which will be held March 27-30 in Las Vegas, NV.
Among the activities that Rock 'N' Roll Fantasy Camp attendees will get to enjoy are jam sessions, Q&A events with various rockers and live performances, as well as writing and recording their own original songs. The camp will conclude with a live performance at House of Blues at the Mandalay Bay Resort & Casino.
"Mentoring adult and young rockers at the Fantasy Camp has always been an amazingly rewarding experience for me," says Simmons in a statement. "I enjoy teaching and handing over lessons I've learned from the business to musicians and upcoming talent."
In addition to Simmons and Ellefson, next year's lineup of participants and instructors includes KISS guitarist Tommy Thayer , former Skid Row singer Sebastian Bach and Billy Idol guitarist Steve Stevens .
As usual, all levels and types of musicians are encouraged to attend and participate in this Rock 'n' Roll Fantasy Camp event. For more information, call 1-888-762-2263 or head to RockCamp.com .
Copyright 2013 ABC News Radio