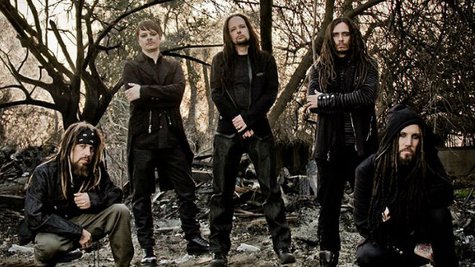 Less than a week after posting a stream of "Never Never," the first single from their upcoming album The Paradigm Shift , Korn has now dropped a trippy new lyric video for the track.
The four-minute clip , which opens with a photosensitive epilepsy warning, features the song's lyrics flashing quickly across the screen, interspersed with bright and distorted clips of the band performing in concert.
"It's a relationship song," frontman Jonathan Davis says of the single in a statement. "You go through that s**t and you get hurt so bad. Then you think, 'It's not worth it anymore. I'm not going to f**king love again.' You experience so many pressures to be a good dad, a good husband, a good lover, or whatever. Being in a relationship is a lot of work."
The Paradigm Shift , Korn's 11th studio album and the first to reunite the group with co-founding guitarist Brian "Head" Welch , is due October 8. The album will be released in both standard and deluxe editions. The deluxe version will contain two bonus tracks plus a DVD of the new documentary, Reconciliation .
Copyright 2013 ABC News Radio