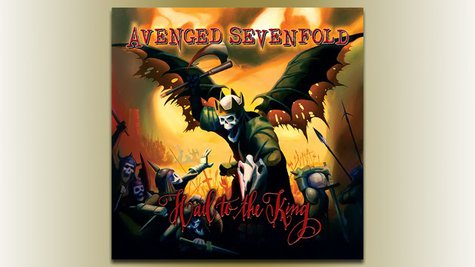 Avenged Sevenfold has announced that they're creating two new projects based on their upcoming album Hail to the King . Frontman M. Shadows posted a note on the band's website, revealing that the group is developing a video game and animated series which will feature music from the release.
"For the past 18 months we have been writing and developing an IOS / Android based mobile Avenged Sevenfold game," he writes. "Without revealing too much I will just say that it is an action adventure game. It has been written and developed by the band and with our friends in Subscience Studios. It's turning out awesome."
While AX7 didn't showcase any material from the video game, the group offered a trailer for the six-episode animated series. The one-minute clip features a snippet of "Hail to the King," along with a dizzying array of quick cuts of a group of warriors fighting against the forces of darkness.
"The game and the series will go hand in hand with each other," notes Shadows. "We hope you enjoy them both because I know we have had a great time developing them."
While Hail to the King will arrive at all the usual outlets on August 27, release dates for the video game and animated series have yet to be announced.
Copyright 2013 ABC News Radio