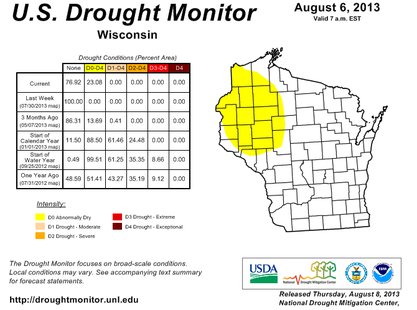 MADISON, WI (WTAQ) - Drought conditions have returned to northwest Wisconsin.
The U.S. Drought Monitor says most of the northwest quarter of the Badger State is abnormally dry – about 23 percent of the state's total land area.
It's the least severe drought category, and it comes after an extremely wet winter and spring ended Wisconsin's worst drought in decades. Things got much drier in most of the Badger State during July.
Drought conditions returned to neighboring Minnesota a week ago, so it's no surprise that they've spread eastward into Wisconsin.
As of last Sunday, the USDA said 44 percent of farmers' topsoil was either short or very short of moisture – and almost a third of sub-soils needed moisture.
Forecasters say the next good chance of showers and thunderstorms is on Sunday.