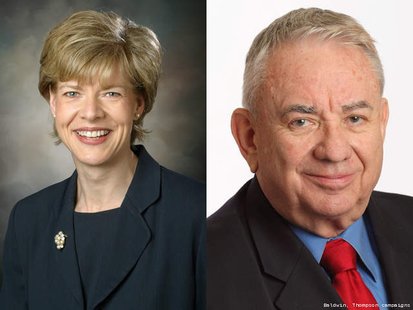 MILWAUKEE, WI (WSAU) - The first debate between U.S. Senate Candidates took place Friday night in Milwaukee.
13-year-veteran of the U.S. House of Representatives Tammy Baldwin (D) and 14-year Governor of Wisconsin Tommy Thompson (R) showed they have very different views about solving America's problems. From taxes and solving the debt crisis to saving Medicare and Social Security, the two candidates could agree on only one thing: It's time to get U.S troups out of Afghanistan.
A three-person media panel asked questions about the claims made by opposing campaign ads, the national debt, taxes, saving Medicare and Social Security, and job creation.
On the issue of taxes and spending, the two candidates have totally different approaches to the problems. Baldwin says she opposes breaks for big corporations and criticized Thompson representing them through his law firm in Washington, D.C. Baldwin said, "I have taken on powerful interests on behalf of ordinary citizens. My opponent has taken on powerful special interests as clients," Thompson said as Governor, "We cut taxes. We changed welfare, giving people hope and opportunity. We built Wisconsin." adding that, " Even her party doesn't pass her legislation because she's so far out of the mainstream." Baldwin says she would end the expensive war, allow Medicare to bargain with drug companies, get rid of policies she calls corporate welfare, let "The Bush Tax Cuts" expire along with supporting the Buffet rule to increase taxes for the very wealthy. Thompson says yes, Washington can cut the debt with no new taxes, and he wants government departments to cut their budgets five percent and eliminate programs that don't work.
With Social Security, Baldwin said, "We need to make sure that Medicare and Social Security remain bedrock foundations." saying the two programs are promises that need to be kept. She is opposed to any privatization of Social Security. Thompson said Social Security will go on until 2036, "But Medicare on the other hand is going to go bankrupt by the year 2022." He added "We've got to maintain Social Security, we've got to maintain Medicare" and he want's to fix the problems. Thompson criticized Baldwin and other Democrats for never introducing legislation to fix Social Security or Medicare.
The Affordable Care Act, also called Obamacare, was addressed by the candidates. Baldwin supports keeping and expanding the new healthcare law. Thompson wants individuals and the states to have more say in health care, citing his past successes on Badgercare, Seniorcare, and Part D for Medicare.
The debate was sponsored by the Wisconsin Broadcasters Association, and was carried on over 80 television and radio stations statewide.
You may listen to the entire hour of the debate by clicking on the above application.