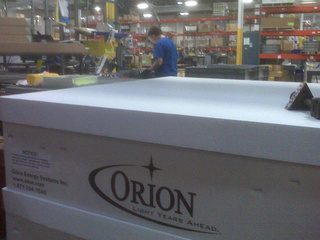 MANITOWOC, WI (WTAQ) - Orion Energy Systems of Manitowoc has a new CEO.
The company said Friday that its founder, Neal Verfuerth, has been replaced by John Scribante. He was a divisional director with Orion, and has been with the firm for the last 8 years.
Orion is a supplier of energy-efficient lighting systems. The company said Verfuerth will stay with Orion as its chairman emeritus.
The firm said the goal was to move Verfuerth back into a product development role, which he had when started Orion.
The Milwaukee Journal Sentinel said the announcement came just over a month after the firm was subpoenaed by the U.S. Securities and Exchange Commission, which involved an inquiry into Orion's sales of solar energy systems.
Also, the paper said the company's stock has lost a third of its value over the past year.
Officials are not saying whether Friday's personnel move is tied to the SEC inquiry.