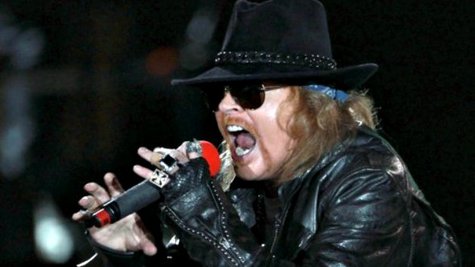 Axl Rose is accusing a Los Angeles photographer and an art gallery of defaming him in materials related to a photography exhibit, "Once Upon a Time ... Axl Rose Was My Neighbor," TMZ is reporting.
One central photo in the show is a picture of a garage door with the message, "Slut....Sweet Child O'Die you R 1 of many nothing special," spray painted on it.
According to TMZ, the photographer, Laura London , claimed on a website for the exhibit that the message was spray painted by Rose during a fight with his then wife, Erin Everly . Rose's attorney's sent a cease-and-desist letter denying that Rose had painted the message and saying London's claims were, "outrageous, false, fabricated, and highly defamatory."
The letter, published by TMZ , requests that the language be removed from the website, that an apology be published and that London "Cancel all performances of 'Once Upon a time ... Axi Rose Was My Neighbor.'"
According to TMZ, the description of the photo was removed from a website for the show, but the photo is still up on the Coagula Curatorial website , and an opening night celebration for the show is still planned for this weekend.
Copyright 2012 ABC News Radio