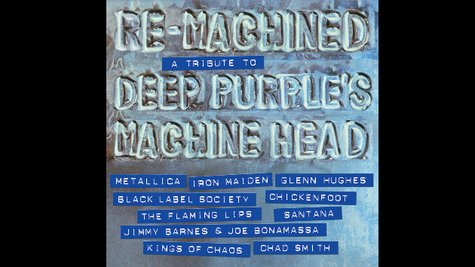 Re-Machined: A Tribute to Machine Head , the star-studded album celebrating the 40th anniversary of Deep Purple 's landmark 1972 recording, hit stores on Tuesday. Among the many rock luminaries featured on the record are Carlos Santana , Metallica , Chickenfoot , Iron Maiden , Def Leppard 's Joe Elliott , ex-Deep Purple bassist/singer Glenn Hughes , longtime Billy Idol guitarist Steve Stevens and former Guns N' Roses members Duff McKagan and Matt Sorum .
Hughes appears on two tracks on Re-Machined , "Maybe I'm a Leo" and one of two versions of "Highway Star" featured on the album. The veteran rocker, who was in the band from 1973 to 1976, says he initially didn't want to record one of Purple's signature songs for the project, but decided to do "Highway Star" as a tribute to ex-Purple keyboardist Jon Lord after Lord's death in July.
Hughes laid down "Highway Star" with his friend Chad Smith of Red Hot Chili Peppers and Chickenfoot, as well as with guitar virtuoso Steve Vai . Speaking recently with ABC News Radio, Hughes had especially high praise for Vai's contributions.
"When you hear Steve Vai's guitar on 'Highway Star,' you're gonna freak. Everybody's freaking about it," gushes the bassist. "Because of Steve Vai's spaceship event, it took my vocals to another level, which kind of freaked me out. So, I hope people enjoy it."
As for "Maybe I'm a Leo," Hughes notes that he chose that tune because it's "a groovier track [that's] got a lot of swagger to it." He recorded it in a trio arrangement with Luis Maldonado , the guitarist in his backing band, and Smith on drums.
"We wanted to do more of a [ Jimi ] Hendrix Experience [thing] -- sort of simple, no overdubs, live, in studio," he explains. "When people do cover albums, I think they should be a different configuration of what the original was."
One of the other interesting tracks on Re-Machined is "Never Before," which was recorded by Kings of Chaos . If the band doesn't sound familiar, perhaps the names of the members will ring a bell -- Joe Elliott, Steve Stevens, Duff McKagan and Matt Sorum.
Sorum assembled the supergroup using some of the artists who accompanied him to South America earlier this year for the abridged Rock N Roll All Stars Tour. The ex-Guns N' Roses drummer admits that he initially was hesitant to participate in Re-Machined until he found out that artists like Metallica, Iron Maiden and Santana were among those who'd signed on for the project.
As for King of Chaos' approach to their version of "Never Before," Sorum tells ABC News Radio he didn't want to stray too far from the original.
"The thing about taking on classic songs, it's, like…how are you gonna make 'em better?" he offers. He notes that the band did tune down half a step for the recording, which "brought it a little bit more into a guttural sort of range…It sounded a little tougher, and Joe liked singing it in that key."
Despite his initial reservations about being a part of Re-Machined , Sorum reveals that he's been a big Deep Purple fan since he was young.
"Deep Purple was kind of my go-to band," he tells ABC News Radio. "Being a drummer, I was just a huge fan of Ian Paice …And I remember sitting down and trying to emulate the way he played…And trying to learn all those beats and play the stuff he was playing took me into another level as a drummer."
Copyright 2012 ABC News Radio