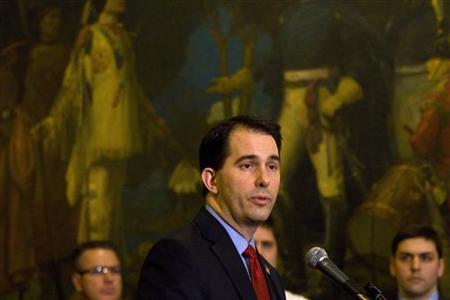 MADISON (WSAU) An appeals court has scheduled an October 4th hearing on the state's request to temporarily restore public union bargaining limits for local governments and schools. Those limits were struck down a week ago by Dane County Circuit Judge Juan Colas, who said they were unconstitutional. Attorney General J-B Van Hollen has asked that the union law stay in effect while he challenges the ruling in the higher courts.
Meanwhile the Dane County Board in Madison voted 29-to-8 last night in favor of a one-year extension of full union contracts for county employees, through 2015. The two sides scrambled to negotiate the extension, because they didn't know how long the judge's decision would remain in effect. County Executive Joe Parisi says the deal includes the county's own plan for cutting personnel costs if need be, with things like furloughs and an unpaid voluntary leave program. But one of the supervisors who voted no, David Wiganowsky, says the deal appears to be more of a political favor than a contract extension.
The labor council that represents Milwaukee city, county, and school employees had also asked for new contract talks in the wake of the court ruling. But Milwaukee County deputy corporation counsel Mark Grady says the impact of the ruling is not as big as many people think. For county workers, Grady says it only affects the size of the pay raises that employees can negotiate for. The union law only allows bargaining for raises at-or-below inflation – and it stopped giving workers a say on benefits and work conditions.
The Wisconsin Taxpayers Alliance said earlier this week that the ruling does not affect the higher payments all public workers are making toward their health care and pensions – with Milwaukee County pension payments being the only exception.