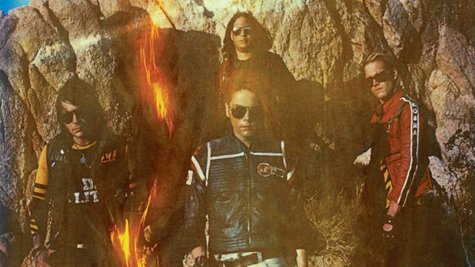 My Chemical Romance is planning to issue their previously unreleased album, Conventional Weapons , in small installments over the next few months. Now, the band has revealed the full list of song titles and release dates for the tracks on their website .
The first release, set to hit stores on October 30, will feature new tracks "Boy Division" and "Tomorrow's Money." The second pair of songs for release will be "AMBULANCE" and "Gun." on November 23. The third installment, scheduled to hit stores on December 18, will feature "The World Is Ugly" and "The Light Behind Your Eyes." The fourth set of songs, "Make Room!!!!" and "Kiss the Ring," will be available on January 8, 2013. The final set of tracks will be released on February 5, 2013, and will feature the singles "Surrender the Night" and "Burn Bright."
In addition to being available all the usual digital outlets, the new tracks also will be released as 7" vinyl singles. You can pre-order a limited edition vinyl box set of Conventional Weapons now at the band's official webstore for $49.99 plus shipping.
Copyright 2012 ABC News Radio