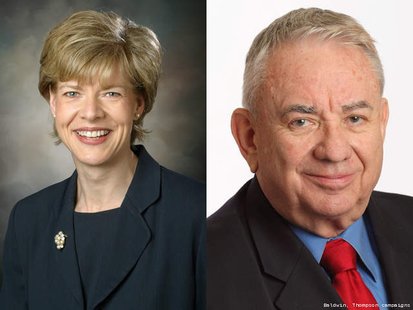 MILWAUKEE (WTAQ) - Democrat Tammy Baldwin has opened up a big lead in the Wisconsin U.S. Senate race.
That's according to the latest Marquette Law School poll released Wednesday afternoon.
Just over 600 likely voters gave Baldwin a nine-point lead at 50 to 41 percent, after the last poll in late August had Republican Tommy Thompson in front by 9 points.
Pollster Charles Franklin said Baldwin's campaign was helped by heavy advertising over the last couple weeks – while Thompson and his supporters had far fewer commercials.
This week, the former governor blamed it on a lack of campaign money after his four-way Republican primary victory on August 14th. Thompson said he spent much of the last three weeks raising money.
The Marquette poll said Baldwin's big gains came from independent voters, who gave Baldwin a 50 to 38 percent edge over Thompson.
Earlier Wednesday, a poll from Quinnipiac University, CBS News, and the New York Times had Thompson and Baldwin dead even at 47 percent each.
That same poll also gave President Obama a six-point lead in Wisconsin, 51-45 over Mitt Romney. The Marquette poll showed Obama with a much larger lead, at 54 to 40 percent.
Franklin said his poll and others showed that the president enjoyed a very large bounce after the Democratic National Convention two weeks ago.