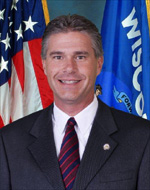 ASHWAUBENON, WI (WTAQ) - Wisconsin Attorney General J.B. Van Hollen expects the legal battle over the controversial collective bargaining law will take its next step soon.
"I would hope and expect if there's not oral arguments – and I don't think there will need to be on an issue like this – that we'll be able to get a decision the week after next," Van Hollen told FOX 11 at a law enforcement conference in Ashwaubenon Wednesday.
Van Hollen, who believes Act 10 will ultimately be upheld, gives Dane County Circuit Judge Juan Colás credit for acting quickly, saying he will issue a written decision, giving the state a time frame.
Colás based his ruling off of a lawsuit filed by a Madison teachers union and a Milwaukee city employees union. Their lawyers have until Monday to file briefs. Van Hollen has until Wednesday September 26.
On Tuesday, Madison Teachers, Incorporated called on Madison Public Schools to go to the bargaining table in the wake of the ruling. A move Van Hollen says is telling.
"I'm actually somewhat happy to see that MTI wants to move this along so rapidly," explained Van Hollen. "I think it's indicative of the fact that they don't think that they're going to have this break from the law very long."
It's not known when Colás would enter his decision.
The portion overturned barred collective bargaining for anything other than wage increases.
This applies only to teachers and local government employees – not state or University of Wisconsin system employees.