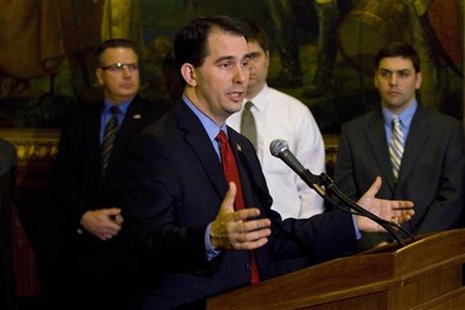 MADISON, WI (WTAQ) - The lawsuit that struck down Wisconsin's union bargaining limits for local governments and schools is one of three challenges to the law that's pending in court.
Judge Juan Colas ruled last Friday that the law violates constitutional rights to free speech, free association, and equal representation. The attorney general's office has promised to appeal the ruling, and ask that the law be restored while the appeal moves through the courts.
Meanwhile, a federal appeals court hearing is set for next Monday on the state's challenge to a ruling in March from Madison Federal Judge William Conley. He threw out parts of the bargaining law that halted automatic payroll deductions of union dues, and required recertification votes each year.
But Conley disagreed with seven public unions that the law was unconstitutional because it exempted firefighters and police officers.
Also, Governor Scott Walker's administration is trying to throw out a third lawsuit against the bargaining restrictions.
It said the law illegally put restrictions on public unions to express their views, and makes it harder for people to associate with public unions. The state countered that collective bargaining is a privilege, and not a constitutional right.
The two sides are waiting for a ruling on Walker's challenge.