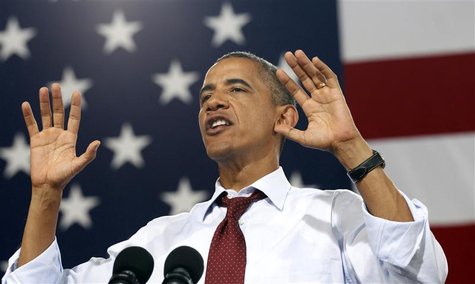 UNDATED (WSAU) President Obama will begin a week of campaigning today in battleground states that include Wisconsin. Ohio is first on the president's itinerary. And the Associated Press says Obama will announce a formal complaint against China, for illegally subsidizing exports for autos and auto parts. The U-S has said that the practice puts American companies at a disadvantage – and it encourages the outsourcing of jobs to China's auto plants. The U-S has tried but failed to get China to address the issue on its own. So the administration will reportedly file a complaint with the World Trade Organization to get the matter addressed. It comes amid new criticism by Republican Mitt Romney that the Democrat Obama has quote, "let China run all over us."
Last week Romney took out a T-V ad accusing the president of quote, "failing American workers" and ignoring unfair trade practices by China. The Obama camp pointed out that Romney has investments in Chinese firms – and he outsourced jobs to China when he ran the equity firm of Bain Capital. The White House says U-S auto parts jobs have dropped by half in the decade ending in 2010 – while imports of Chinese auto parts have grown by 700-percent.
Obama's week-long campaign trip includes stops in Ohio, New York, Florida, Virginia, and finally Milwaukee on Saturday – where he'll hold a major fund-raiser in his first visit to Wisconsin since February.