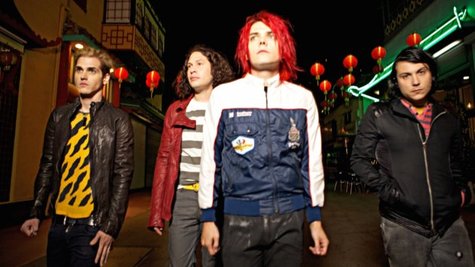 My Chemical Romance will be opening up the archive to put out their previously unreleased album, Conventional Weapons , which was recorded in 2009.
Guitarist Frank Iero posted a message on the band's website, explaining why the band decided to scrap the tracks from Conventional Weapons and start the sessions for 2010's Danger Days: The True Lives of the Fabulous Killjoys . "We planned on making a specific kind of record, we wrote songs to fit that specific plan, and then we flogged ourselves for it not feeling right, organic, or complete," writes Iero. "After almost a year of beating ourselves up, we ended up shelving those ill-fated songs, and reconnected with [producer] Rob Cavallo and [engineer] Doug McKean to salvage our band and make what would become Danger Days ."
Iero adds that some of the Conventional Weapons tracks are "among my favorites we have ever written," and that it took time for the guitarist to be comfortable with idea of releasing them to their fans. "At first they gave me mixed feelings…I liked the songs but I couldn't help associating them with the hard times from which they were created," he writes. "But as time passed I began to enjoy them more and more, and was able to look upon the past a bit more fondly."
In addition, the guitarist revealed that the band plans to release the tracks from Conventional Weapons in small installments over the next few months. "Beginning in October we will be releasing two songs a month for five months," Iero says. "We hope you enjoy these time capsules, and that they may shed a little more light on how and where Danger Days came from, and maybe even where the future of MCR might be heading."
The full release schedule for Conventional Weapons will be announced in the coming weeks.
Copyright 2012 ABC News Radio