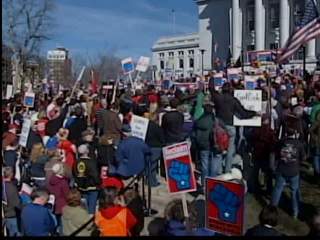 MADISON, WI (WTAQ) - The Madison teachers' union expects to ask its School Board Tuesday for full-fledged contract talks, after the union at least temporarily won a lawsuit last Friday.
John Matthews says negotiations for the next two-year contract would not normally begin until February – but in light of the court case, he wants those talks to begin now.
Rachel Strauch-Nelson of the Madison School District did not immediately comment.
A Dane County judge ruled last Friday that the year-old law which limits public employee bargaining violates both the state-and-federal constitutions.
The state said it would seek to overturn the decision, and put the law back into place while an appeal is being considered.