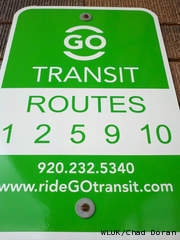 OSHKOSH, WI (WTAQ) - Oshkosh transit and city leaders unveiled a new look for public buses in the city Monday.
Officials are now calling it "Go Transit."
"I love it, it gets me where I've got to go even though you gotta wait but it's better than paying three or four bucks for gas," Michelle Gruse of Oshkosh tells FOX 11. It's that sentiment Oshkosh Transit officials hope to hear more of.
"We have a fast paced life and when you take transit, putting the word go in it just makes it sound really easy," Oshkosh City Council member Bob Poeschl told FOX 11.
City leaders say they know it will take more than a new logo to keep the riders they have and convince new ones to "Go Transit."
"Keeping the same things that we have always had but maybe getting people to look at us that haven't looked at us before," said Oshkosh Transportation Director Chris Strong.
Transit ridership is up more than six percent over 2011. Currently more than 446,000 riders have used Oshkosh Transit through July compared to just over 419,000 through July of last year. Current riders say the service is good but could be better.
The re-branding effort cost the city about $30,000 to change the logos on signs and busses.
The new branding includes a new website.