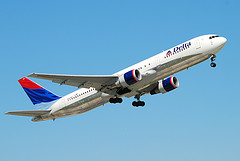 ASHWAUBENON, WI (WTAQ) - New details are coming out regarding a passenger plane emergency at Austin Straubel Airport over the weekend.
Authorities originally said Delta Airlines Flight 5209 took off at 4:45 p.m. bound for Detroit and turned back after the passenger cabin filled with smoke.
Now airport officials say the plane never took off, it stopped on the taxiway because of the cabin problem. 65 passengers and four crew members got off the plane and were checked out.
Dozens of emergency crews responded to the scene.
Authorities are investigating the source of the smoke.