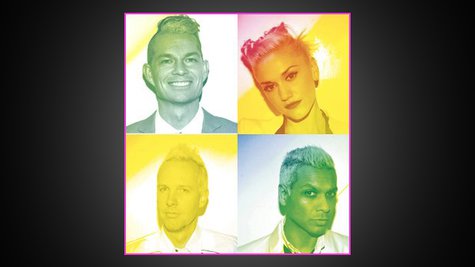 No Doubt will release their first new album in a decade, Push and Shove, on September 25. The night before, Gwen Stefani and the guys will sit down with E! to talk about their lives and their career in an E! Entertainment Special.
In the special, airing at 9 p.m. ET/PT on September 24, the band opens up about their history, their creative process, their personal relationships and, of course, their family lives. Between them, the four members -- Gwen, Tony Kanal , Adrian Young and Tom Dumont -- have nine kids.
"There are only three other people in my life that have the same experiences as me. And that's Gwen, Tom and Adrian. And to now share this new experience of raising a family all together is pretty awesome after, you know, being together for 26 years," bass player Tony Kanal says in the special.
Drummer Adrian Young adds, "What I want to be best at is being a dad. There's no room for sucky dads, and that's another thing I'm proud of my band mates for: they're all really good parents."
As for the music side of things, Gwen marvels, "When I think back to all the different stuff that happened in this band it feels like I'm making it up because it's so dramatic."
Copyright 2012 ABC News Radio