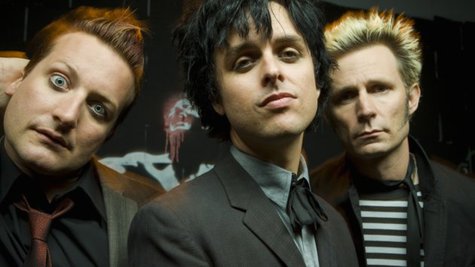 Green Day stopped by ABC's Good Morning America on Friday morning to perform a few tracks and discuss their upcoming trilogy of albums, ¡Uno! , ¡Dos! and ¡Tré! In an interview with GMA 's Josh Elliot , frontman Billie Joe Armstrong says that each album in the trilogy is a part of an ongoing story, as well as a reflection of their musical history.
"The first record is kinda' more classic, kinda Green Day-sounding, kinda dates back to more Kerplunk or Dookie -kinda- era," said Armstrong. "The second one is much more garage-y, like Foxboro Hot Tubs …and the third one is more of like a finale of the three. We started off writing a few songs and it ended up becoming an epic in the long run."
Armstrong added that the band wasn't planning to make three albums at once, but after their writing sessions produced thirty songs, they felt they should do a three-album set. "We had a handful of songs and then instead of doing a double record -- I think we had about right around 30 songs, we decided to just keep going," notes Armstrong. "We were having a good time with it. So, we were like, let's put out a three-album set."
While ¡Uno! arrives in stores on September 25, ¡Dos! won't be released on November 13. The band's final album of the trilogy, ¡Tré! , will be available on January 15, 2013.
You'll get your chance to hear songs from the trilogy performed live when Green Day hits the road for a North American tour. That outing kicks off at the Paramount Theatre in Seattle on November 26.
Copyright 2012 ABC News Radio