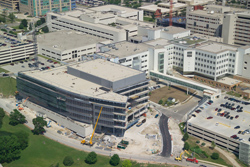 MILWAUKEE (WTAQ) - Milwaukee's largest hospital is about to get even larger.
Froedtert Hospital said Friday it plans to start construction before the end of the year on a $117 million expansion and renovation project.
It will include a new 480,000 square foot building next to the cancer center that Froedtert shares with the Medical College of Wisconsin. Both institutions are located on the same campus in Wauwatosa, just north of the Milwaukee County Zoo.
Hospital president Cathy Buck says Froedtert is currently pushed to its capacity in several areas of treatment, due to a steady growth in the demands for its services.
The number of surgeries at Froedtert grew by 72 percent over the last decade. Doctors performed over 18,000 operations at Froedtert last year.
It's the academic center for the nearby Medical College. It's also where the most serious trauma victims throughout southeast Wisconsin go for specialized care.