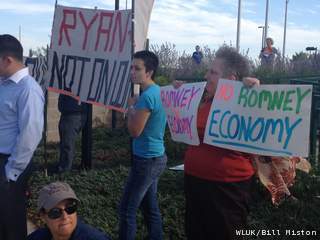 ASHWAUBENON, WI (WTAQ) - As Republican vice presidential hopeful Paul Ryan made his way to the Cornerstone Community Ice Center for a campaign rally, protesters greeted the Wisconsin Congressman outside the arena.
Many of those gathered held signs saying that Ryan and running mate Mitt Romney are bad for the economy.
Also outside of the event was Assembly Minority Leader Peter Barca, wanting to know specifics of the GOP tickets' plan on taxes.
"Tell us what tax loopholes you're going to close," Barca (D-Kenosha) said. "Because the middle class has a huge investment in this. As Democrats, we believe you build the economy from the middle class up and increase demand, not go back to the Bush-era of supply-side cuts, where you give huge breaks to wealthy and hope they help the middle class."
Among the issues Ryan discussed during his visit were passing a budget to rein in spending, trimming the size of the federal government and strengthening the American dollar.