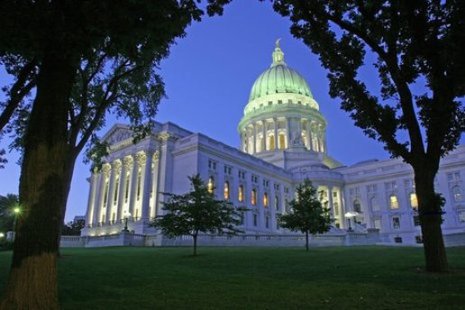 MADISON (WSAU) A State Capitol protestor said police went to his workplace to give him two citations, apparently to intimidate him. And another protestor said the officers were trying to get him fired from his job. Bart Munger of Milton was among four Capitol protestors who were given seven citations on Monday for displaying signs, and protesting without the permits required under a long-time Capitol policy that's just now being enforced.
The new Capitol Police chief, David Erwin, says he's cracking down on protestors who intimidate workers and visitors – and his officers started issuing citations last week. Now officers no longer issue tickets on the spot – and they're serving them at the protestors' homes. Spokeswoman Stephanie Marquis said the change was designed to avoid confrontations in the Capitol and to keep order.
But Munger – a maintenance worker at U-W Madison – told the Wisconsin State Journal that police tried to intimidate him by showing up at his job. Fellow protestor Arthur Kohl-Riggs said it was a "clear case of harassment," possibly to get Munger fired. Kohl-Riggs also said officers are trying to avoid being caught on camera giving out the tickets, because they know it would get many upset.
Meanwhile more protestors are showing their displeasure by showing up at the daily noon-time sing-along at the Capitol by the Solidarity Singers. Over 100 people showed up yesterday – far more than before the new crackdown.