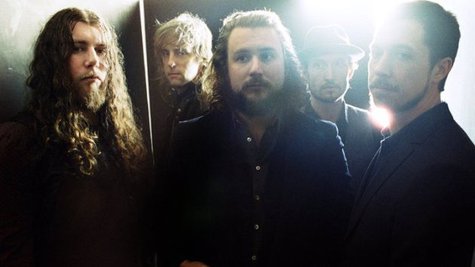 My Morning Jacket has revealed their plans to ring in 2013. The band will rock the recently-reopened Capitol Theatre in Port Chester for a three-night run before spending New Year's Eve at the Agganis Arena in Boston, MA.
The Capitol Theatre shows will be part of the band's ongoing Spontaneous Curation Series , where fans assist in curating each night's set list through the band's Twitter account. In addition, fans who attend the shows will get to see completely unique concerts each night as MMJ promises that "no songs will repeat for each of these performances." Every Capitol Theatre ticket buyer will receive a complimentary download of the concert they attend which will be delivered shortly after each performance. The New Year's Eve concert in Boston, however, "will not be part of the Spontaneous Curation Series in order to ensure an evening full of surprises."
Pre-sale tickets for all four shows will be available to the band's fan club, Roll Call, on Wednesday at MyMorningJacket.com . Tickets for Capitol Theater will go on sale to the general public on Friday at 10 a.m. ET, while tickets for Agganis Arena show will be available to the general public at 12 p.m. ET.
Here are the tour dates:
12/27 -- Port Chester, NY, The Capitol Theatre
12/28 -- Port Chester, NY, The Capitol Theatre
12/29 -- Port Chester, NY, The Capitol Theatre
12/31 -- Boston, MA, Agganis Arena
Copyright 2012 ABC News Radio