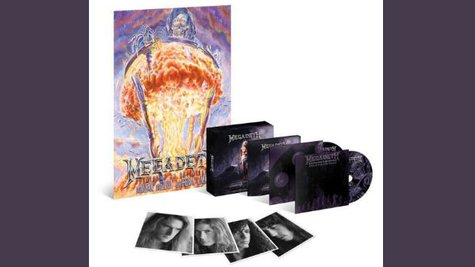 Twenty years ago, Megadeth released their best-selling album, Countdown to Extinction . To celebrate the milestone, the band has announced that they'll be releasing a special box set devoted to the album on November 6.
The package features two CDs: a remastered version of the album, and a live disc of the band's performance at San Francisco's Cow Palace from 1992. The set also comes with collectibles including a poster and four postcards.
In addition, Megadeth will be hitting the road for some special anniversary shows shortly after the box set is released. The trek kicks off on November 9 at Lupo's at the Strand in Providence, RI, and will make stops in Atlantic City, Charlotte, Atlanta and Las Vegas, among other cities. Fan club pre-sale tickets for the newly-announced dates go on sale on Wednesday, while tickets will be available to the general public on Friday.
Here is the track list for the 20th Anniversary Edition of Countdown to Extinction :

CD 1 – Remastered Countdown to Extinction Album
"Skin o' My Teeth"
"Symphony of Destruction"
"Architecture of Aggression"
"Foreclosure of a Dream"
"Sweating Bullets"
"This Was My Life"
"Countdown to Extinction"
"High Speed Dirt"
"Psychotron"
"Captive Honour"
"Ashes in Your Mouth"

CD 2 – Live at Cow Palace, 1992
"Intro"
"Holy Wars…The Punishment Due"
"Skin o' My Teeth"
"Wake Up Dead"
"Hangar 18"
"Countdown to Extinction"
"Foreclosure of a Dream"
"This Was My Life"
"Lucretia"
"Sweating Bullets"
"In My Darkest Hour"
"The Conjuring"
"Tornado"
"Ashes in Your Mouth"
"Symphony of Destruction"
"Peace Sells"
"Anarchy in the UK"

Here are the tour dates:

11/9 -- Providence, RI, Lupo's at the Strand
11/10 -- Huntington, NY, Paramount Theatre
11/11 -- Worcester, MA, The Palladium
11/13 -- Wallingford, CT, Oakdale Theatre
11/14 -- Sayreville, NJ, Starland Ballroom
11/16 -- Atlantic City, NJ, House Of Blues
11/17 -- Niagara Falls, NY, Rapids Theatre
11/19 -- Stroudsburg, PA, Sherman Theater
11/20 -- Columbus, OH, LC Pavilion
11/24 -- Myrtle Beach, SC, House Of Blues
11/25 -- Charlotte, NC, Fillmore
11/26 -- Atlanta, GA, The Tabernacle
11/28 -- Kansas City, MO, Midland Theatre
12/1 -- Salt Lake City, UT, Great Saltair
12/2 -- Boise, ID, Knitting Factory
12/4 -- Reno, NV, Grand Sierra Theatre
12/6 -- Las Vegas, NV, House Of Blues
12/7 -- Pomona, CA, Fox Theatre
Copyright 2012 ABC News Radio