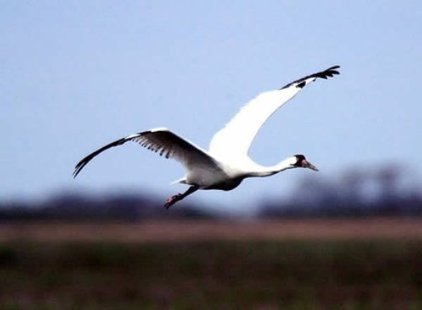 HORICON, WI (WTAQ) - A dozen Wisconsin baby whooping cranes are flying south this fall – and for the first time, some will fly with older cranes that have made the migrating trip in previous years.
According to the Milwaukee Journal Sentinel, 6 baby cranes have been reared at the Necedah National Wildlife Refuge. And they've flown to the Horicon refuge in Dodge County, where they'll take off with older cranes in mid to late October.
Meanwhile, the other six baby whooping cranes are training to fly with an ultralight aircraft. They'll take off from the White River Marsh State Wildlife Area in Marquette and Green Lake counties. They'll all spend the winter with other cranes at two locations in Florida, with the goal of expanding the endangered whooping crane population in the Eastern U.S.
The project has been taking place for over a decade, and there are now 104 birds which are part of the Eastern migrating population.
Officials say two dozen birds have hatched since 2006, and five fledged into the wild. All of the babies used to fly with an ultralight pilot. But the federal government grounded last year's trip after a former pilot complained that it's against the rules for groups to pay ultralight pilots.
The FAA granted a two-year exemption for the crane project – but it ordered some licensing changes, and it forced this year's planes to be upgraded.