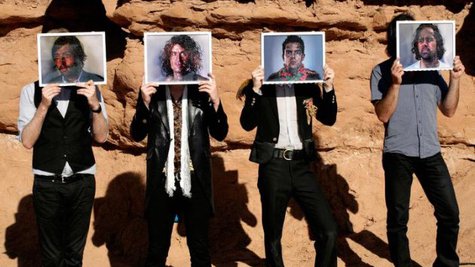 While some bands have taken time to perform at rallies to endorse their favorite candidate in the upcoming presidential election, frontman Brandon Flowers says that The Killers won't be choosing a side in the battle for the White House.
"We've always been neutral, so we just kinda stay out of it," Flowers tells U.K. newspaper The Independent . "None of us is planning any rallies for anybody."
Flowers, who met with Republican presidential candidate Mitt Romney last year, says that despite the fact that he and Romney are both Mormons, it doesn't mean that he's going to endorse or vote for him.
"I don't think you shouldn't vote for [Romney] because of his religion," says the singer. "If you're gonna vote for somebody, you should learn about what their views are on things, and pick the guy that you identify with and believe in the most."
In other Killers news, the band will be the next artist to participate in the American Express-sponsored concert series Unstaged on September 18, the same day that their new album, Battle Born , arrives in stores. The performance will be live-streamed from the Paradise Theater in the Bronx at 7 p.m. ET/4 p.m. PT at YouTube.com/TheKillersVEVO .
Copyright 2012 ABC News Radio