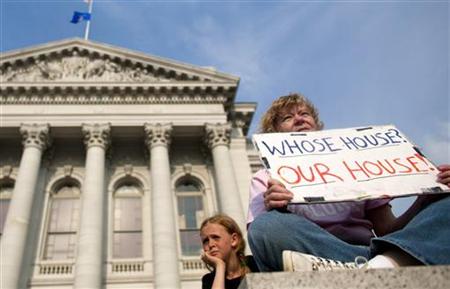 MADISON, WI (WTAQ) - Seven more citations have been given for protests Monday at the State Capitol.
And unlike a dozen others issued last week, the new ones were served at the alleged offenders' homes.
Administration spokeswoman Stephanie Marquis did not say why. She said 3 protestors each received a pair of citations for displaying protest signs without permits, and protesting without a permit. A 4th person was only cited for the latter offense.
The new State Capitol police chief announced a crackdown on protestors last week in an effort to bring what he called "normalcy" back to the statehouse.
Officials say they're enforcing a long-standing policy first highlighted last December, which requires permits for planned activities at the Capitol involving four or more people.
Protests continue on a daily basis, a year-and-a-half after the massive demonstrations against the new law which virtually ended most public union bargaining.