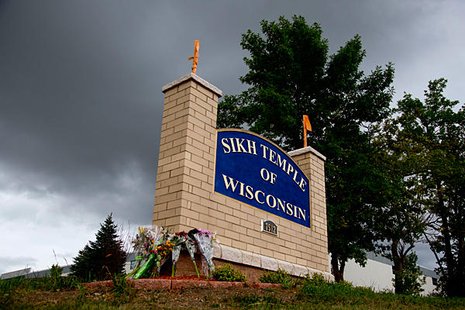 OAK CREEK, Wis. (WSAU) - Oak Creek police lieutenant Brian Murphy was wounded more seriously than was first reported in the days after the August fifth shooting massacre at the Sikh Temple.
At a news conference this afternoon, Police Chief John Edwards said the 51-year-old Murphy was hit by 15 bullets from gunman Wade Michael Page. Authorities originally said he was hit 8-to-9 times. The chief said three of the shots hit Murphy's bullet-proof vest, and the other 12 hit other parts of his body.
Milwaukee County District Attorney John Chisholm told reporters that the officers who fired at Page were quote, "justified and privileged" in their use of force. Officer Sam Lenda, who hit Page with six bullets, said the gunman was on a mission and had to be stopped. The F-B-I said Lenda's bullets would have been enough to kill Page, had the gunman not fired a final shot to his head. Officials say the self-inflicted wounds are what killed him.
Page killed six worshippers and wounded four people at the Sikh Temple of Wisconsin. Video from two Oak Creek police cars was released. They showed Page and Murphy exchanging gunfire, and Lenda wounding Page.