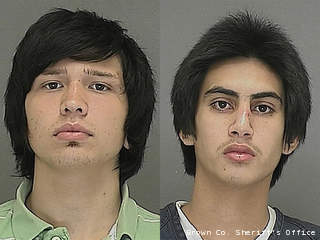 TOWN OF PITTSFIELD, WI (WTAQ) - Brown County authorities are looking for other people who may be involved in an arson case from last year.
A house was set on fire on Cimarron Lane in the town of Pittsfield on July 21, 2011. It caused $150,000 in damages.
Investigators are looking for other people who may have been involved in setting a Brown County house on fire last year.
Kody Besson and Angel Kaquatosh, both 17, were arrested for the arson. Kaquatosh has been convicted and Besson is still awaiting trial.
Sheriff's investigators think others may have been involved as well. Anyone with information is asked to call the Brown County Sheriff's Office at (920) 448-6279. Anonymous tips can be left with Crime Stoppers by phone at (920) 432-7867, by texting GBTIP plus the message to 274637, or online .