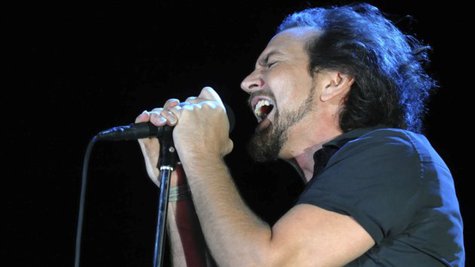 Fans who attended Bruce Springsteen 's concert at Wrigley Field in Chicago on Friday got a special treat. Springsteen welcomed Pearl Jam frontman Eddie Vedder and Rage Against the Machine guitarist Tom Morello onto the stage during his headlining set.
Vedder joined Springsteen for a special rendition of The Boss's classic 1982 hit " Atlantic City ," and then reappeared with Morello to perform Springteen's " Tenth Avenue Freeze-Out " and a cover of " Twist and Shout ."
The onstage collaboration is nothing new: both Vedder and Morello have a history of performing with Springsteen. Morello has shared the stage with Springsteen several times over the years, and he appears on two tracks on his latest album, Wrecking Ball . Vedder has also gotten the opportunity to jam with Springsteen several times over the last decade, performing at The Boss's concerts in Chicago in 2002, two shows in New Jersey and Washington, D.C. in 2004, and at the Kennedy Center Honors Springsteen event in 2009.
Fan-filmed footage of the performances has been posted on YouTube.
Copyright 2012 ABC News Radio