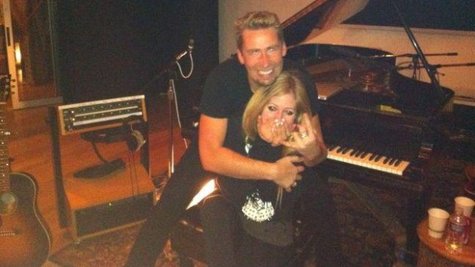 Three weeks ago, Nickelback 's Chad Kroeger and pop star Avril Lavigne shocked their fans when they announced that they were engaged. While it seems that everyone has something to say about the duo getting hitched, Kroeger says he's not paying attention to anyone else's thoughts on the forthcoming nuptials.
"I try not to take too much interest in the world's opinion of our relationship," the singer tells People . "I just know the both of us are very happy."
Kroeger started dating Lavigne on July 1 -- the Canadian equivalent of America's Independence Day, known as Canada Day -- while working on new music for her album. The frontman notes that he's thrilled that the Canadian couple will be sharing that special milestone as part of their relationship's history.
"We think it's very cool that our anniversary will always be on Canada Day," says Kroeger. "We can't wait to start our life together." Kroeger added that while he's busy touring with Nickelback, Lavigne will "come over and spend some time [with me] when she's got time."
Copyright 2012 ABC News Radio