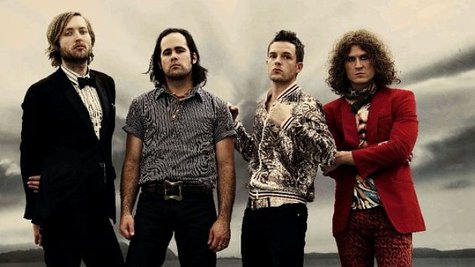 Brandon Flowers has a bone to pick with electronic dance music. The Killers frontman says that while he appreciates EDM music and the dance culture, it just can't measure up to the power of rock and roll music.
"Dance music cannot compete with a really great rock 'n' roll song," Flowers tells ShortList.com . "There ain't no DJ that's gonna play something that can take "Mr. Brightside" or [the 1996 Oasis hit] "Don't Look Back in Anger". Those songs are better than that."
Flowers added that the rise of grunge music, and bands like Nirvana , caused rock music to become more "serious." "People misinterpret my emotions towards Nirvana because I've said things about how something happened with grunge that took a little bit of fun out of things," explains the singer. "It's no offense to Nirvana, they were one of the greats, obviously. But something died there too and we haven't quite gotten the groove back."
In other Killers news, the band will be the next artist to participate in the American Express-sponsored concert series Unstaged on September 18, the same day that their new album, Battle Born , arrives in stores. The performance will be live-streamed from the Paradise Theater in the Bronx at 7 p.m. ET/4 p.m. PT at YouTube.com/TheKillersVEVO .
Copyright 2012 ABC News Radio