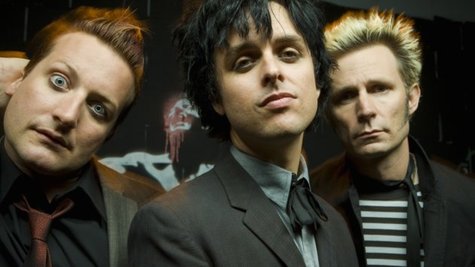 Green Day frontman Billie Joe Armstrong gave fans a scare last week when he was hospitalized following the band's cancellation of a concert in Bologna, Italy. Bassist Mike Dirnt says that fans shouldn't worry, though, because the singer has now fully recovered from his illness, which Dirnt reveals was dehydration.
"Billie came down with heavy, heavy dehydration; it was like severe dehydration, influenza, and it was just a really, really bad situation," Dirnt tells MTV.com in a video interview. "He woke up in the morning and it was bad . Let's put it this way, if you're in your hotel room and you're vomiting profusely, it's not fun."
Dirnt added that the band is looking forward to performing new songs from their upcoming trilogy of albums, ¡Uno! , ¡Dos! and ¡Tré! on tonight's MTV Video Music Awards telecast. "We're ready to rock, we're gonna be here, we're gonna have a good time," he notes. "We're going to drink chicken blood."
The Video Music Awards will be broadcast live at 8 p.m. ET/PT on MTV.
Copyright 2012 ABC News Radio
Get More: 2012 VMA , Artists.MTV , Music