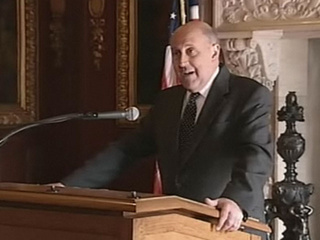 CHARLOTTE (WTAQ) - Former Governor Jim Doyle says the nation would have gone into a "deep, deep, deep, deep depression" had his fellow Democrat Barack Obama not been elected president in 2008.
Doyle left office almost two years ago, but he's still part of the 131 member Wisconsin delegation at the Democratic National Convention which ends Thursday night in Charlotte.
He said the nation was "obviously" better off after four years of an Obama White House. And Doyle said the Republican Party would, "rather have the economy go down the tubes than see (Obama) re-elected president."
Doyle said Obama has persevered in a positive way against a, "We'll do anything to stop you" mentality.
Doyle served 8 years as Wisconsin's governor – and he has made almost no public comments about his Republican successor Scott Walker. But at the convention, Doyle told the Milwaukee Journal Sentinel, "I think in hard economic times, it's easy to push buttons and pit people against each other … It's a lot harder to work through tough economic times and bring people together."
This fall, Doyle will become a resident fellow at Harvard's Institute of Politics. He'll lead study groups each week on a host of issues.