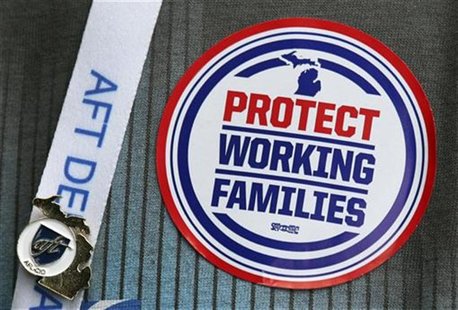 MILWAUKEE (WSAU) After a rough year for the union movement, thousands of organized workers still showed their pride during Milwaukee's Labor Day parade. They marched down Wisconsin Avenue, and then enjoyed music, food, and great weather at Maier Festival Park. Public unions took a huge hit over the last year, after losing most of their negotiating privileges. They lost some political capital as well, when they failed to recall Governor Scott Walker.
Meanwhile, members of private employee unions say just they're fighting to keep their benefits. Mark Seidner of Milwaukee, who's with the Communications Workers of America, says workers are quote, "trying to keep a middle-class lifestyle."
The November elections did not have a big presence at yesterday's Labor Day event. Some people said they had trouble finding bumper stickers for President Obama and other Democrats. Ann Griffin of Brown Deer was selling yard signs promoting both the president and U-S Senate candidate Tammy Baldwin. Griffin said Baldwin needs to be highlighted with Obama because many who only vote every four years don't know who Baldwin is. The U-S House Democrat from Madison hopes to change that on Thursday night, when she speaks on the final night of the Democratic National Convention when it moves to the Carolina Panthers' football stadium in Charlotte.