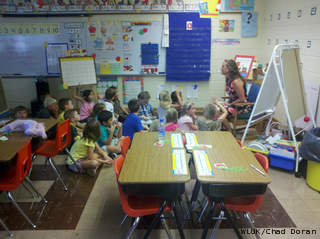 NEENAH, WI (WTAQ) - On the heels of a federal wavier to the No Child Left Behind Act, school districts across Wisconsin are working on a new way to evaluate teachers.
But FOX 11 reports one local district is going beyond that.
The Neenah Joint School District is looking to tie the program in with paying teachers based on performance, not just longevity.
With both students and teachers back in the classrooms, school districts statewide are working on a way to improve how teachers are evaluated.
"Every school district in the state needs to come up with an evaluation system that will measure the practice or the process of teaching as well as student achievement," Keith Fuchs, executive director of CESA 6, told FOX 11.
The old program focused solely on improving teachers, but it didn't always add up to improvement for students. The new program which must be in place by the 2014-15 school year will tie the two together.
But the Neenah Joint School District is taking it a step further. District leaders unveiled a plan to teachers to give performance based pay raises.
"Now it provides incentive to eliminate complacency, it has the incentive to ensure that our teachers and our staff will continue to reflect, assess themselves and continue to improve student outcomes," said superintendent Mary Pfeiffer.
But the pay plan, which is in effect this school year, is concerning to teachers union officials.
"There are a number of components that go into student success. Some of which are tied to having excellent educators, but there are all kinds of variables like their home life and their socioeconomic situation," said Beth Ludeman, executive director of WEAC - Fox Valley.
Pfeiffer says the district will work with teachers throughout the year to make changes to the program if necessary.
The statewide student evaluation portion of the teacher assessment program should be ready by next school year.