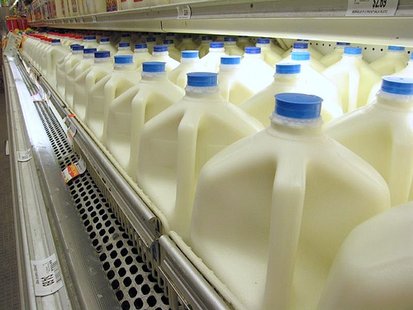 MADISON, WI (WTAQ) - Volumes have been written about the summer drought, and its effects on Wisconsin farmers.
But until now, very little has been said about another trend affecting dairy farmers – fewer people drinking milk.
The USDA said almost 6 billion gallons of milk were sold as beverages throughout the country last year. That's the lowest since 1984.
And whole milk consumption is less than half what it was in the early '80's, as over half of U.S. adults have stopped drinking the Wisconsin dairy industry's signature beverage.
Vivian Godfrey of the Milk Processor Education Program says milk continues to get a smaller market share as it loses out to sports drinks, bottled teas, and soda.
But the Wisconsin Milk Marketing Board says rising sales of cheese and yogurt have made up for much of the loss. Even so, Godfrey says the milk industry is not giving up – and it's focusing on its biggest market, the breakfast at home crowd.
Also, there's a new effort to promote chocolate milk to help athletes recover after their competitions.
Lori Koss of UW-Milwaukee says chocolate milk is a very good recovery drink for those not lactose-intolerant. She says it's high in protein and water – and the sugar helps in the recovery process.
Godfrey says she believes athletes would rather consume all-natural milk instead of, "something concocted in a laboratory."