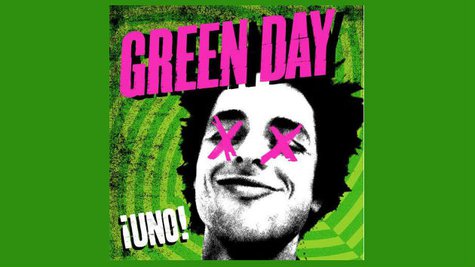 Green Day has debuted the new video for " Kill the DJ ," the next single from the band's upcoming album, ¡Uno! , which hits stores on September 25. The four-minute clip features footage of the band cruising through the desert on motorcycles, interspersed with scenes of the band performing the track for a rowdy crowd of dancers at a rave.
In other Green Day news, TMZ.com is reporting that frontman Billie Joe Armstrong is out of the hospital and back in Los Angeles. The singer was hospitalized following the band's cancellation of a concert in Bologna, Italy on Friday night. In a 35-second video clip, Armstrong can be seen mouthing the words, "My voice is gone," to a cameraman before getting into his limo. While bassist Mike Dirnt and drummer Tre Cool wouldn't say what "illness" Armstrong is suffering from, they did post a video on the band's official website , saying they were "beyond devastated" to cancel the gig.
Green Day's upcoming album trilogy, ¡Uno! , ¡Dos! and ¡Tré! will be rolling out in the coming weeks and months: ¡Uno! is set to arrive in stores on September 25, while ¡Dos! and ¡Tré! are slated for release on November 13, 2012 and January 15, 2013, respectively.
Copyright 2012 ABC News Radio