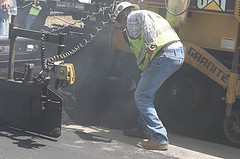 UNDATED (WSAU) Wisconsin transportation officials say they've complied with a federal order from last year to include improvements for minorities – like mass transit – in their road-building plans.
The Milwaukee Journal Sentinel this morning uncovered a nearly one-year-old ruling from the Federal Highway Administration. It found that the state D-O-T had not followed federal civil rights rules since at least 2004. Karyn Rotker of the American Civil Liberties Union said she learned last year that agencies like the D-O-T needed to have annual plans to comply with Title-Six of the U-S Civil Rights Act, proving that the state's not discriminating on the basis of race or disability. But she found that the state had not filed such a report in seven years. Her group worked with the state's Black Health Coalition and the Midwest Environmental Associates and filed a complaint.
The federal government later put Wisconsin in a "deficiency status," and gave the state 90 days to comply. The state adopted a new civil rights plan which was approved this year, but Rotker calls it "grossly inadequate."
Last month the three groups filed suit to halt construction of a major re-building of the Zoo Freeway Interchange west of Milwaukee. They said it discriminated against minorities by not including public transit improvements. Rotker said it's only a coincidence that the suit was filed about the same time the federal government ended its previous investigation of the D-O-T.