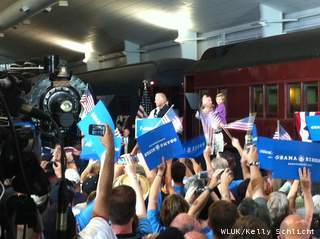 ASHWAUBENON, WI (WTAQ) - Vice President Joe Biden told a Sunday audience in Ashwaubenon that his Democratic party is fighting for the middle class.
Biden made an appearance at the National Railroad Museum.
He also said Republicans are being deceptive when they try to blame the economic downturn on President Obama. He said Mitt Romney and his Wisconsin running mate Paul Ryan talk about restoring the country, but they are planning to use economic strategies which have failed in the past.
The campaign stop in northeastern Wisconsin was part of the Obama-Biden campaign's "Road to Charlotte" tour, leading up to the Democratic National Convention starting Tuesday.