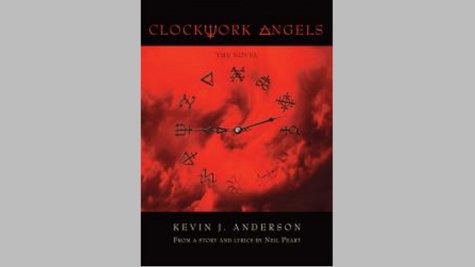 Following the June release of Rush 's Clockworks Angels CD, the first chapter of Clockwork Angels: The Nove l has debuted on Rollingstone.com .
Drummer Neil Peart created the story and worked closely with best selling sci-fi novelist Kevin Anderson who wrote the book. "Kevin did the heavy lifting on the prose-writing," Peart tells Rolling Stone . "But I was involved all the way in review and suggestions and the general shape and mood of it."
Peart said he hopes the music from Clockwork Angels will be go beyond concert tours. "I want to see it on Ice Capades. As they say, I'll be dining out on this for years." He adds, "Cirque Du Soleil would also be amazing. As the character in one of the songs says, 'I can't stop thinking big!'"
Peart is also dreaming of taking his story to Broadway. "[ South Park co-creator] Matt Stone is a pretty good friend of ours," he says. "We just saw him in Ottawa. Those guys not only went from South Park to Broadway, but they also had a huge hit on Broadway. I really admire that I would be glad to take part in anything like that, too." Peart is referring to The Book of Mormon , the Tony Award-winning musical by the creators of South Park .
The novel's publisher, ECW Press , summarizes the book this way: "In a young man's quest to follow his dreams, he is caught between the grandiose forces of order and chaos. He travels through a lavish and colourful world of steampunk and alchemy, with lost cities, pirates, anarchists, exotic carnivals, and a rigid Watchmaker who imposes precision on every aspect of daily life."
Clockworks Angels: The Novel will be in stores September 4.
Copyright 2012 ABC News Radio