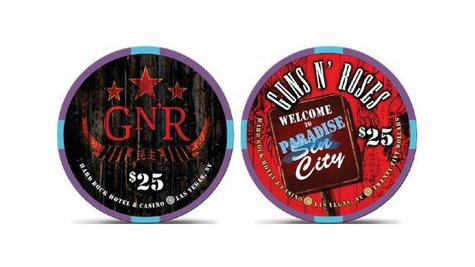 With the debut of Guns N' Roses ' Las Vegas residency quickly approaching, Hard Rock Hotel & Casino have chosen to honor the guys by releasing 2,500 $25 chips to pay tribute to the 25th anniversary of the band's debut album, Appetite for Destruction . The GN'R commemorative chips will be available at the venue beginning on Friday at 10 a.m. PT.
In addition, the Hard Rock Hotel & Casino is offering their guests special GN'R-themed drinks, like "Patience Punch," "Liquid Dream Shot" and "The Axl Rose," from now until the band's residency ends on November 24.
The band's Vegas residency, titled Appetite for Democracy, kicks off on October 31. In addition to playing tracks from Appetite for Destruction , Axl and company have said they'll draw their sets from every GN'R album.
Copyright 2012 ABC News Radio