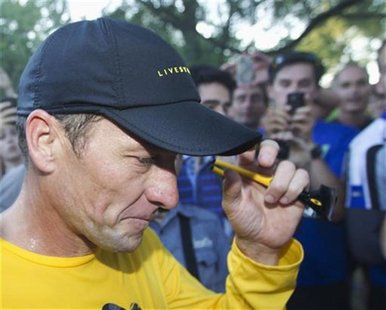 WATERLOO, Wis (WSAU) The Wisconsin company that made bicycles for Lance Armstrong says it will no longer support the embattled cyclist. The Trek Corporation of Waterloo joined Nike and Anheuser-Busch yesterday in cutting their ties with Armstrong. Trek said it was disappointed by the conclusions from the U-S Anti-Doping Agency. That group released its evidence last week of an elaborate doping ring, which it said involved Armstrong and his former U-S Postal Service teammates.
The anti-doping agency banned Armstrong from competitive cycling a few weeks ago – and it stripped him of his seven Tour de France titles.
Trek voiced its support for Armstrong in August, citing his quote, "remarkable contributions to the sport of cycling and the fight against cancer." Trek says it will continue to support the Live-Strong charity that Armstrong started to fight cancer. Armstrong stepped down from the charity yesterday, saying he hopes it will put more focus on the foundation's mission.
Armstrong denies doping. But he chose not to fight the allegations through arbitration. He cited flaws in the process.