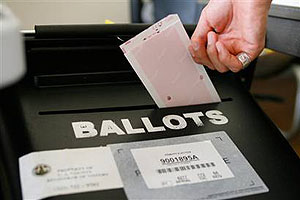 MADISON, WI (WTAQ) - Mitt Romney's Republican presidential campaign has filed a federal lawsuit in Madison.
It wants Wisconsin to extend its deadline for military and overseas voters to return their absentee ballots.
State officials said 44 ballots were sent up to 5 days after a deadline of September 22nd.
The Romney camp had asked the Government Accountability Board to extend the deadline. The Board said no, so Romney's people are asking a judge to count overseas ballots that are returned to local clerks by November 14th instead of the current deadline of November 9th.
The Board has not commented on the lawsuit, which was filed last Friday. But Board spokesman Reid Magney said last month that any delays in sending the ballots was relatively short – and local clerks were more successful in following the overseas ballot laws than in the past.
Wisconsin is not the only place where the Romney camp is bringing up the issue. It filed similar complaints with state election officials in Michigan, Mississippi, and Vermont.